If you are a car enthusiast who is also environmentally conscious, the Audi E-Tron is revolutionary. As one of the pioneers in the luxury electric vehicle (EV) segment, the Audi E-Tron has been gaining popularity among drivers for its impressive performance, innovative technology, and eco-friendly credentials. 
One of the standout features of the Audi E-Tron is its electric powertrain. With dual electric motors and a large battery pack, the E-Tron delivers instant torque and smooth acceleration, propelling you from 0 to 60 mph in just 5.5 seconds. Its top speed is electronically limited to 124 mph, making it a practical and exhilarating choice for daily driving and long-distance road trips. 
Many Audi E-Tron drivers have praised its refined driving experience. The E-Tron's electric powertrain delivers a smooth and silent ride, eliminating the noise and vibration. This is made possible due to its well-designed aerodynamics and optional air suspension. Air suspension allows drivers to adjust the ride height for different driving conditions, providing a plush and luxurious driving experience, particularly on rough or uneven roads. Audi's legendary Quattro AWD system is a key component to its precise handling and balanced weight distribution, which contributes to its stability and confidence-inspiring driving dynamics.  
 
In terms of technology, the Audi E-Tron is packed with advanced features that enhance the driving experience. The E-Tron's Virtual Side Mirrors, for example, use cameras to capture real-time images of the vehicle's surroundings and display them on OLED screens inside the cabin, providing improved visibility and reducing blind spots. The E-Tron also comes with Audi's latest MMI touch response infotainment system, which offers seamless connectivity, intuitive controls, and a wide range of functions, including navigation, media, and climate control.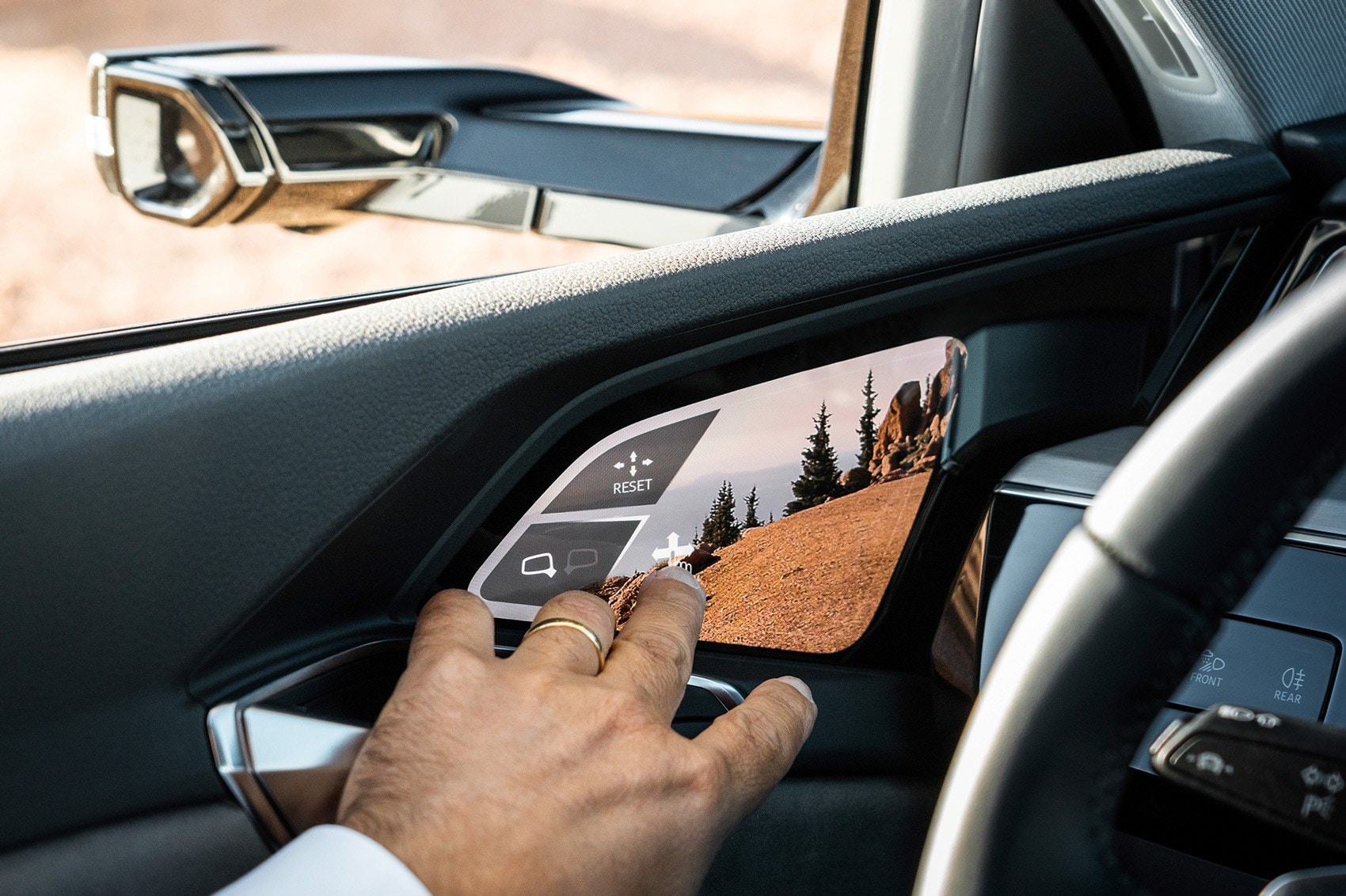 Another highlight of the Audi E-Tron is its luxurious and spacious interior. The cabin is thoughtfully designed with premium materials, comfortable seating, and ample cargo space, making it ideal for both short commutes and long journeys. 
Virtual Cockpit
technology
 is standard across all E-Tron models
,
 allow
ing
 drivers to configure their display to 
preference
.
 In addition to the standard driving information, the Audi Virtual Cockpit also integrates other features such as Google Earth™ mapping, which 
provides
 a detailed and dynamic view of the surroundings, as well as music, phone, and media controls. The system can be controlled using the buttons on the steering wheel, voice commands, or the MMI touchpad, 
providing
 a seamless and intuitive user experience.
The E-Tron also comes with a host of standard and optional features, such as heated and ventilated seats, panoramic sunroof, Bang & Olufsen premium sound system, and more, 
providing a premium 
driving experience for its passengers.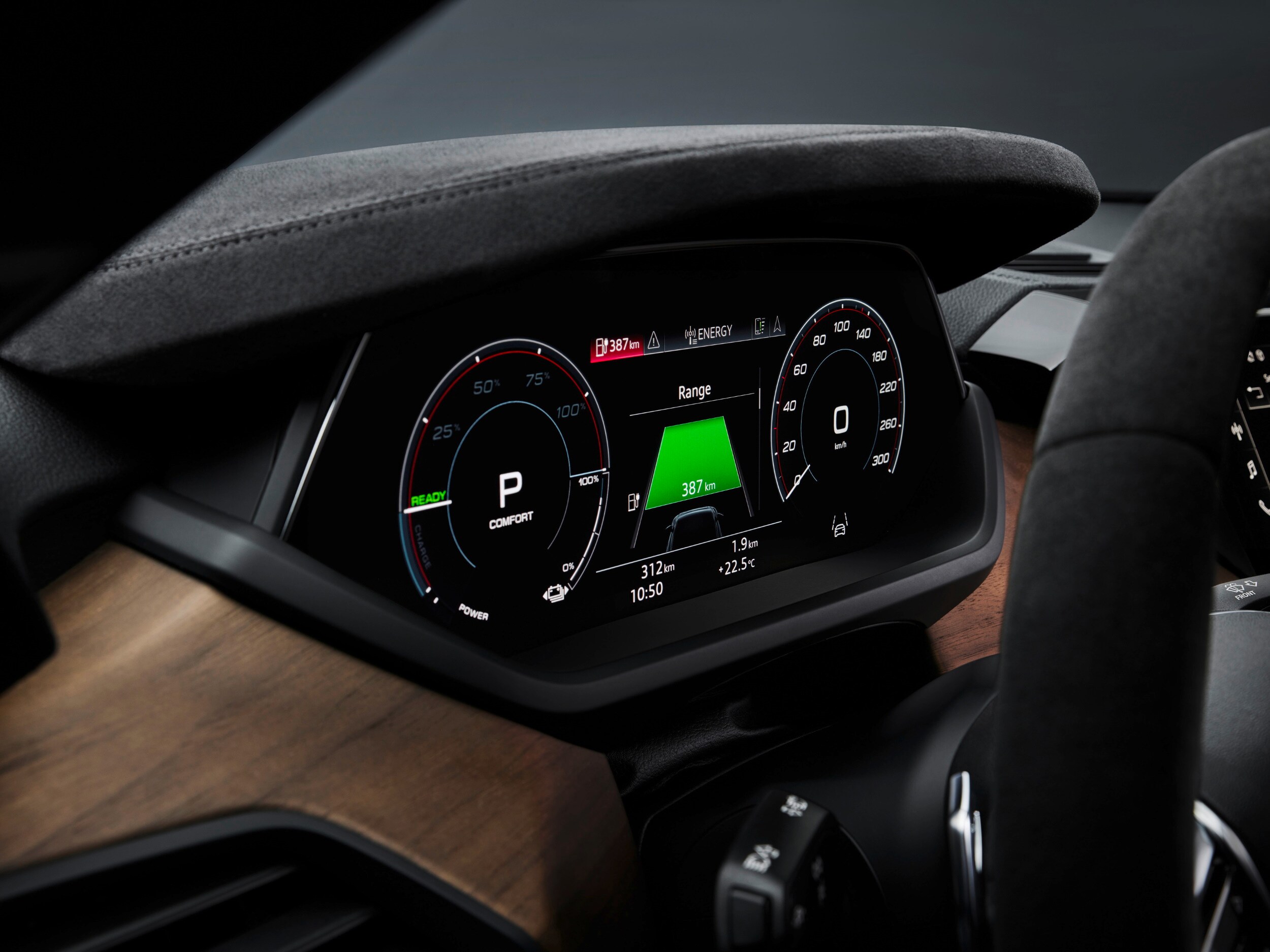 In addition to its performance and technology, the Audi E-Tron is also making a positive impact on the environment.
 As an all-electric vehicle, the E-Tron produces zero tailpipe emissions, reducing greenhouse gas emissions and air pollution. It also contributes to a more sustainable future by using regenerative braking to capture energy during deceleration and charging the battery, which extends the driving range and reduces the need for frequent charging.
Audi has committed to sourcing renewable energy for its production facilities, including the E-Tron manufacturing.
 This means that the energy used in the production process of the E-Tron is derived from renewable sources such as wind, solar, and hydroelectric power, which can result in lower carbon emissions compared to energy obtained from fossil fuels. The interior of the E-Tron incorporates recycled and renewable materials, as well as environmentally responsible manufacturing processes. This emphasis on sustainable materials helps reduce the environmental impact of the vehicle and contributes to a more eco-friendly
 approach.
Overall, the Audi E-Tron is garnering praise from drivers in Great Neck, NY, and beyond for its impressive performance, advanced technology, and eco-friendly credentials. With its refined driving experience, innovative features, and luxurious interior, the E-Tron is leading the way in the electric vehicle revolution. So, if you are looking for a stylish, high-performance, and environmentally conscious car, the Audi E-Tron might just be the perfect fit for you. Experience the future of driving today and join the revolution with the Audi E-Tron.