New Audi e-tron SUV & Sportback at Biener Audi in Long Island

Car shoppers have more electric vehicle options than ever before, including at our Great Neck Audi dealership. The Audi e-tron recently joined our dealership, and the Audi e-tron family continues to grow with models like the new Audi e-tron Sportback. There are many benefits to buying an electric vehicle near Queens, especially a luxury electric vehicle from Audi. Below, we highlight these benefits and the Audi e-tron lineup so that you find the right fit.
Enjoy Federal and New York State Electric Vehicle Rebates
One of the major benefits of buying an electric vehicle is that you'll receive financial help through federal tax credits and more rebates through the New York Drive Clean program. You can receive up to $7,500 in federal tax credit, which means paying less in taxes on your purchase. There are other factors, such as your income and the battery size of the electric vehicle you buy, on how much of a tax credit you'll receive.
The New York Drive Clean program is open to all New York residents that buy an electric car. You get a rebate for any electric vehicle you buy, and the amount you receive is based on the mile range that your vehicle gets. Since every Audi e-tron has an electric driving range of over 200 miles, you'll get a rebate of $2,000. With this, buying a new electric luxury SUV near Port Washington is easier on your budget.
Compare the Audi e-tron and e-tron Sportback in Nassau County
Drivers will enjoy several models to consider in the Audi e-tron lineup, and the Audi e-tron Sportback is a recent addition. The Audi e-tron and Audi e-tron Sportback are similar in many ways, but these electric SUVs do differ enough that you may find one suits you better. We compare the Audi e-tron SUVs below.
Audi e-tron SUV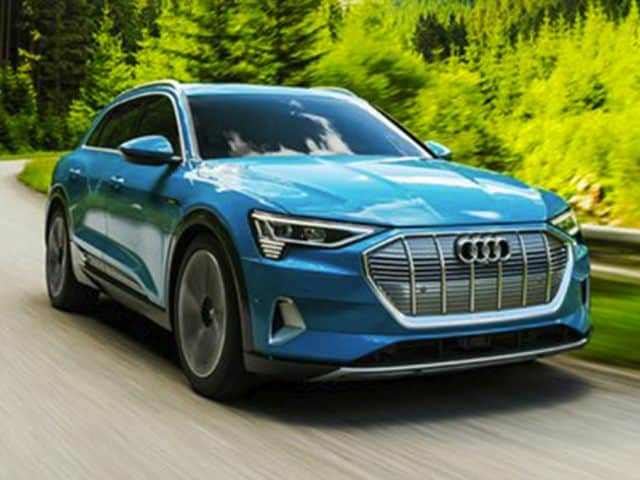 Audi e-tron Sportback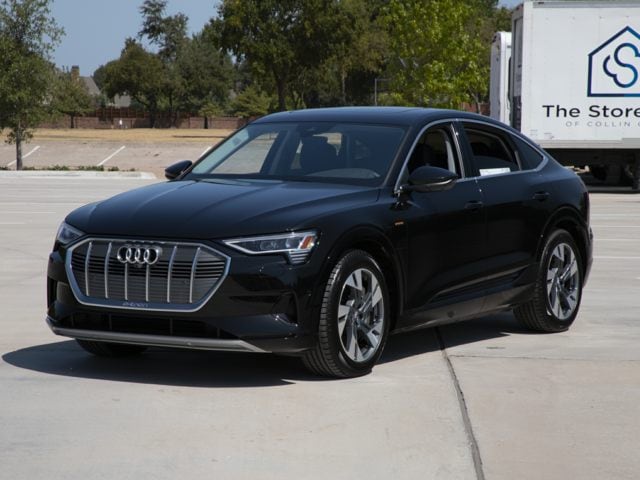 Design
The design is the largest difference between the Audi e-tron and e-tron Sportback. The sloped rear roofline of the Audi e-tron Sportback gives it a sleeker style, which you may prefer if driving through the city. The Audi e-tron still stands out with its looks, especially with options like the Black Optics package. There isn't much of a change to the interior dimensions, like rear headroom, but the Audi e-tron does have two cubic feet more of cargo space than the Sportback model.
Engineering
Both of these models rely on powerful electric motors and quattro® all-wheel drive to ensure fun and confidence when behind the wheel. You'll enjoy 402 horsepower, 490 pound-feet of torque, and a 4,000-pound towing capacity from both of these SUVs, too. The Audi e-tron Sportback does have a shorter driving range, 218 miles, but that is only 4 miles short of the Audi e-tron.
Features
These electric luxury SUVs have more smarts than just their powertrains as they both come with a wide assortment of helpful features. They both come standard with Audi pre sense®, which monitors the road around you, and both offer items like a 360-degree camera view. A helpful infotainment system and digital cockpit sit in front of the driver in both of these models, and you'll find items like heated seats and a panoramic sunroof as well.
How Much Does it Cost to Charge an Audi e-tron?
It doesn't cost much to charge your Audi e-tron, and that is another in a long list of benefits of electric vehicles. You'll find many electric car charging stations on Long Island, and they may differ in whether they charge by the time spent charging or how much electricity you used based on kilowatt-hours. Based on the batteries in the Audi e-tron models, it will cost you less than $10 to charge your model.
How can we help?
* Indicates a required field